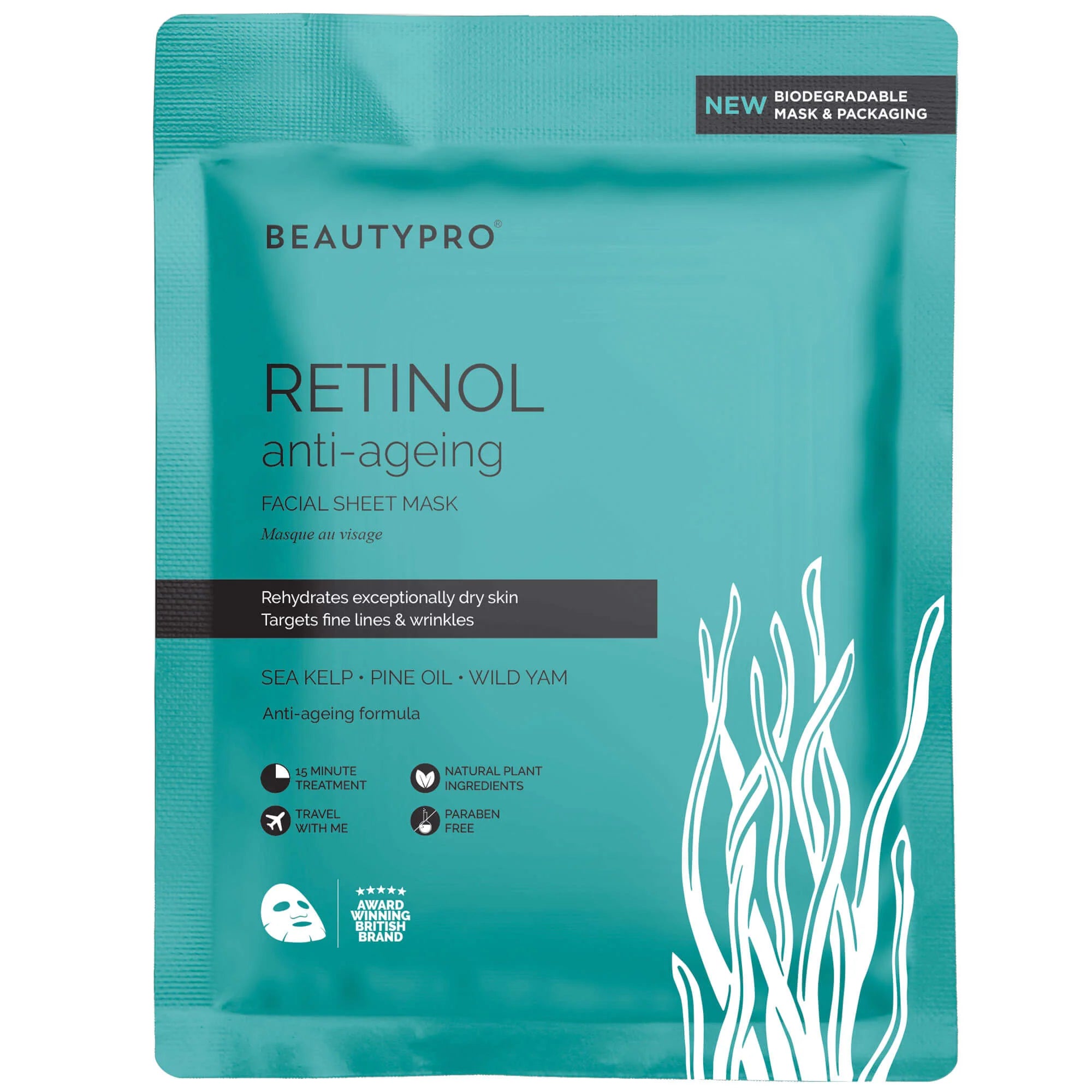 BEAUTYPRO RETINOL Anti-Ageing Face Sheet Mask - 100% Biodegradable, Vegan, Eco-Friendly
Anti-Ageing | Blemish Control | Hydrating 
Condition your skin with our RETINOL Facial Sheet Mask. This plant based formula uses Seaweed Kelp Complex, Organic Pine Oil and Wild Yam to help you to achieve skin that's clear and youthful.
The sheet mask uses our NEW 100% Biodegradable Packaging. Once opened, our new eco pouches begin to biodegrade immediately, taking just 1% of the time compared to traditional plastic. That's 500 years down to 5 years with no trace of microplastics in the soil or sea! This environmentally friendly biodegradable material can be disposed of in general waste, recycling bins and home composts - it will biodegrade in all environments.
The sheet mask itself is constructed with bamboo fibres, which not only minimise skin sensitivity but also makes the mask biodegradable. 
This 15 minute Retinol treatment is a great choice for those looking to target acne or the signs of ageing due to it stimulating collagen production to help aid repair. This renewing formula will help to diminish fine lines, minimise inflammation, reduce pore size, even the skin tone and protect from free radicals.
Seaweed Kelp Complex - Our naturally derived Retinol kickstarts the process of anti-ageing. Your skin will feel conditioned and refreshed as the ingredient works to renew the cells.
Organic Pine Oil - This soothing ingredient helps to target skin concerns such as pimples, eczema and acne. It can minimise the pain caused by breakouts while also reducing inflammation.
Wild Yam - Rich in antioxidants, Wild Yam helps to improve skin elasticity and encourage cell renewal to keep the skin firm and healthy. It also helps with hydration and is a great choice for skin that requires moisturising. 
 INGREDIENTS: 
Undaria Pinnatifida Extract, Sargassum Fulvellum Extract, Ecklonia Cava Extract, Pentylene Glycol, Glycerin, Hibiscus Esculentus Fruit Extract, Dioscorea Opposita Root Extract, Linum Usitatissimum Seed Extract, Salvia Hispanica Seed Extract, Adenosine, Aqua, Caprylic/Capric Triglyceride, Polysorbate 20, Polycaprolactone, Retinol, Lecithin, Ceramide NP, Sodium Magnesium Silicate, Phaseolus Radiatus Seed Extract, BHT, Avena Sativa (Oat) Meal extract, Decyl Glucoside, Pinus Sylvestris Leaf Oil, Limonene
Made in South Korea.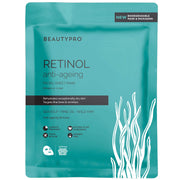 BEAUTYPRO RETINOL Anti-Ageing Face Sheet Mask - 100% Biodegradable, Vegan, Eco-Friendly